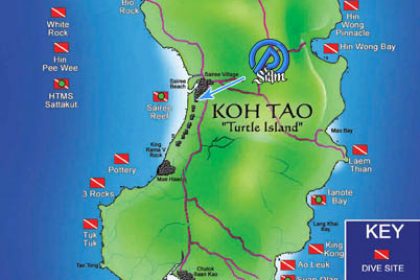 There are hundreds of places to choose from when it comes to diving, with over 70% of the world covered in water, divers are not short of places to get wet! So why do so many divers choose Koh Tao? The small Island of Koh Tao situated in the gulf of Thailand is surrounded by a beautiful coral reef, and the small island of Koh Nang-Yuan less than a kilometer from Koh Tao's Sairee beach is not only one of the most beautiful islands on land but also underwater.Koh Tao has extremely versatile diving, from the shallow coral gardens around (Dive site: Japanese Gardens) to the more challenging deep water pinnacles (Dive site: South-west Pinnacle and Chumpon Pinnacle) and even a wreck dive (Dive site: HTMS Sattakut). The Coral gardens are full of life and colour and it is on these sites divers take their time in the shallow waters looking at the wide array of coral, reef fish and looking for the nudi branches and blue-spotted stingrays. It is not uncommon in these reefs for divers to come across sea turtles, both Green Sea Turtles and Hawksbill Turtles inhabit the waters of Koh Tao. Diving with turtles is something every diver wants to do!
Chumpon Pinnacle is maybe Koh Tao's most famous dive site – being about 40 minutes away by standard diving boats the dive site is situated in vast open water. The pinnacle starts at about 15m deep and at the deepest point divers can reach 40m. This dive site is home to huge schools of Trevally, Chevron and Yellowtail barracuda and being surrounded by these schools of fish is the dive sites main attraction. However, the other reason people come to Chumpon Pinnacle is that the infamous whale sharks do pass by occasionally – something no diver wants to miss!
Koh Tao's water is 28-29 degrees all year around, and while the island might not offer everything in regards to diving – It is certainly a place any diver should not miss out on!