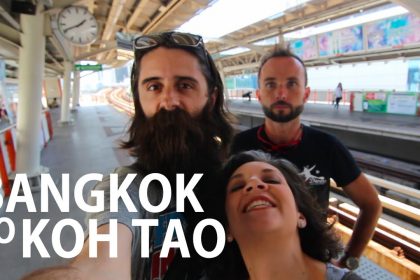 There are a few options available to people wanting to travel from Bangkok to Koh Tao. The options include bus, train, and plane, and it really depends on your budget and time frame as to which you decide to take.
The Coach / Boat option
This is one of the more popular options due to its price. There are a couple of different companies you can use, some better than others. The Songserm has a coach and boat join ticket available, but their boat is very slow and not the most luxurious. If you want to save yourself a couple hundred Thai Baht, this is the cheapest. By far the most popular joint ticket is the Lomprayah company. Their booking office is located on Soi Rambutti (next to Ko San Road), but you can get your ticket at any of the travel agencies. The coaches they use are large and comfortable enough, and their high speed catamaran boats are very nice. You will usually get on the coach at around 9pm, and travel down to Chumphon, stopping a couple of times on the way for food and refreshments. The coach arrives at Chumphon at around 6am, then you will take the boat at 7am to Koh Tao (arriving at 9am).
The Plane / Boat option
This is the more expensive of the three options available. Solar Air (Lomprayah company) and Nok Air both fly from Bangkok to Chumphon. The Solar Air plane is a smaller aircraft and can hold around 16 people, so not for the faint hearted. When booking with Solar Air, you can get a joint ticket that includes the high speed catamaran as well. Bangkok Air is a little bit more expensive and flies into Koh Samui. When you arrive on Koh Samui you can take a 5 min taxi ride to the Seatran pier, where you can get a ticket to Koh Tao. Be warned, the last boat from Samui to Koh Tao leaves at 13:30, so if you miss it, you will be stuck on Koh Samui for one night.
The Train / Boat option
This is another popular option due to the price. The train leaves from the main station in Bangkok and arrives the next day, early in the morning in Chumphon. You will have your own fold down bed where it is possible to get a good nights sleep. The joint ticket for the train and boat can be booked at most of the travel agencies around the Ko San Road area. You can also book your train ticket online.