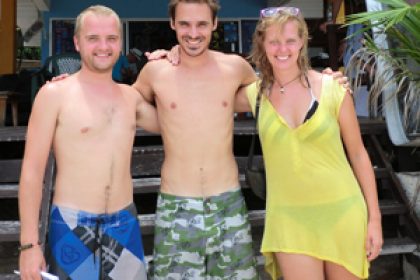 It has certainly been an amazing time for Whales Shark sightings here on Koh Tao! We have been lucky enough to have had three wonderful encounters with Whale Sharks in the last week alone. All our customers and staff have been coming back from their dives recently with the biggest smiles on their faces. This picture was taken by our Fun Diving couple Nicholas and Valerie at Chumphon Pinnacle.
We have to also congratulate our two new certified Open Water and Advanced Open water divers Karolien and Bart. They had an amazing week with us and were lucky enough to enjoy more than 20 minutes with one of these amazing and graceful creatures. Congratulations again guys and good luck with the rest of your travels!
If you are interested in taking your Open Water Certification to the next level then why not read about our Advanced Open Water course on our website.