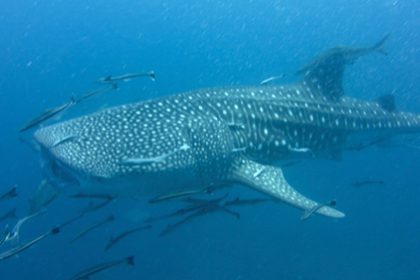 Koh Tao are two words that hold a special place for those lucky enough to have set foot on this tropical island.
Divers and travellers from all over the world are drawn to Koh Tao for its beauty, crystal clear water and amazing diving.It's truly a diver's paradise. Situated in the Gulf of Thailand, it lies just north of the other popular islands of Koh Phangan and Koh Samui.
Divers are spoilt because of number of dive sites that surround the island, which offer a vast array of aquatic life. Chumphon Pinnacle is a popular dive site located north-west of Koh Tao with a range of pinnacles at different depths to explore. It's also a favorite for the diverse marine life including Barracudas. Whale sharks are also spotted here during the whale shark season which is around Spring and Autumn each year. Southwest Pinnacle, no prizes for guessing where it located, is another popular spot teaming with fish and marine life with the site situated around a larger main pinnacle.
Shark Island and the HTSM Sattakut are favourite sites for many divers and are located just minutes from the island. While Shark Island is well known for varied marine life and soft corals, the HTMS Sattukut offers photographers a chance to capture of piece of history as they swim around the intact gun turrets, helm and hull. The list of popular sites could go on and on, but White Rock, Green Rock, Twin Peaks, and Japanese Gardens are also well known spots for an incredible dive. The best way to explore them all is to give yourself enough time on Koh Tao to dive the different sites and also enjoy the island itself.
PADI Dive Shops on the island run courses and specialities everyday and a few favourites include the PADI Open Water Diver Course for beginners as well as PADI Advanced Open Water Dive Course, PADI Enriched Air Diver and PADI Underwater Photographer for more experienced divers. Some divers also take up the challenge and complete their PADI Divemaster Course and with the backdrop of a beautiful tropical island lifestyle, who could blame them!
Apart from the diving the island is a tropical paradise ready to be explored and enjoyed! You can really get away from it all on this island, and with no high rise buildings on the island it has preserved its exotic feel and lifestyle. There are a range of restaurants and amazing places to rewind at after a hard day of diving, and a great range of accommodation including excellent options at many PADI Dive Centres and Resorts all over the island. Getting there is quite easy and if you are coming from the South of Thailand you can take a boat from Surat Thani. From Bangkok you can take the ferry from Chumphon or take the fast boat fromm Koh Phangan and Koh Samui.
So what are you waiting for? Koh Tao is a must-dive location and before you know it, you will have fallen in love with this island paradise!