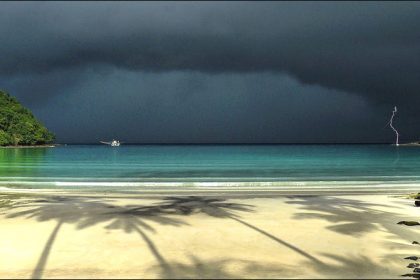 When people book trips to Thailand – one the most common pieces of advice is "don't go in the rainy season" or "make sure you don't book in monsoon season!"  This advice, although understandable is actually a complete misconception regarding Koh Tao.   The weather in Koh Tao is different to most of Thailand and we are busy all year around, and the diving is great all year around.
From July until November the island does get affected from what is known as 'Monsoon' – with heavy rain normally prevailing for roughly one hour in the late afternoon.  This can be a great break from the heat of the day in Thailand and many of us expats and even locals enjoy the refreshment!
What is also great about the monsoon season is that it opens up dive sites that during the non 'monsoon' times we cannot dive.  The whole of the east side of Koh Tao is normally undiveable during non-monsoon season due to prevailing eastern winds – however the monsoon bring south-westerly winds allowing us to dive in spots that are left un-dived and therefore untouched most the year around! Hin Wong pinnacle is a prime example of this – beautiful whether deep or shallow, filled with a massive variety of soft, hard and even whip corals and also home to clown triggerfish (maybe the only site on Koh Tao you can see them!) – this dive site is one not to miss in this season.
Yes you might get wet, but you are diving anyway, forget the short bursts of rain and embrace the season, you might just be surprised with how great Koh Tao can be in the so called 'Monsoon' Season.