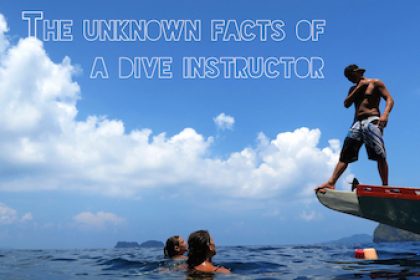 Everybody who is not a dive instructor thinks it is the dream job. And it is pretty much…
All the diving instructors will tell you the same:
Sometime you work 12 hours in a row but it's OK you are diving
23°C is very cold water. But there is plenty of gostpipe fish.
"Yes! the water is salty!"
Your hair changes color
You know what DMT, SPG, AOW, BCD, CESA, DSD, SMB, OW means.
You too, can have ear problems.
A snorkel test has nothing to do with your snorkelling skills.
People may exaggerate when they say they are good swimmers.
Your sick of your parents telling you to come back to "real life".
You have to explain to your friends back "home" that a weekend doesn't exist.
Breakfast With Rice And Fish, Bruce Willis Rocks/Ruins Action Films, Bangkok Women Really Are Fellas, Because We Really Are Fish, Burger With Relish And Fries, British Women Really Are Fantastic…
Talking underwater is not a problem for you.
"Yes… That Parrot fish is beautiful… please show me more…"
Sharks are friends not food.
All the girls look at you with love (sometimes the boys too)
You are a full grown up, and a professional, but still sometimes have to deal with nappy rash.
"No, the underwater photographer is not taking pictures from the boat. he is coming diving with us."
You have signed as many autographs as Georges Clooney.
Pay is quite low, but when you are working 15 days in a row it is good money.
We were all DMTs once…
Dive, eat, sleep. Repeat.
CESA is not a salad.
"Yes… you gonna have some water in your ear…"
You have to deal with disappointment when you show your costumers a Glossodoris hikuerensis nudibranch and no one cares.
Patience…
You might have bad visibility underwater. Who cares, it is whale shark season!
As underwater videographers and photographers, part of our job is to follow instructors like Thom on their everyday tasks, taking care of Discover Scuba Divers, teaching Open Water Courses…
Here is a Gallery of the Instructor's Life
** If you want to know what the acronyms mean, just ask a dive instructor.. or take up diving!